The Government of India Meets Dissent Abroad
Blow for blow
NEW DELHI: Nearly 50,000 people are reported to have attended Sunday's 'Howdy, Modi!' rally at the NRG Stadium in Houston, Texas. According to the Texas India Forum which organised the rally, some 30,000 attendees were Indian-Americans from the Houston area, where the Democratic Party has been making steady gains in the otherwise reliably Republican state.

The website of the Texas India Forum, Inc. says the rally was funded entirely by donations from the general public. As the Texas Tribune reports, many prominent politicians and donors live in Houston, which may explain the presence of US President Donald Trump, as well as a number of senators and congresspersons from either party, at the rally named for the Indian prime minister.

Organiser Jugal Malani billed it as "the largest-ever gathering of Indian-Americans and friends of India" in the United States, telling the Houston Chronicle that "We're not just doing it because we're all out to talk about Modi, we're doing it because we're out to talk about ourselves… We can celebrate only when we all come together. You have to have some common theme. So he is the common theme."

Meanwhile, as attendees repeatedly chanted 'Modi! Modi! Modi!'—and on one occasion, 'USA! USA!'—outside the stadium a different picture emerged.

Protestors numbering "between 12,000 and 15,000" were packed outside. Besides ordinary citizens concerned about Modi's human rights record and the Indian government's recent unilateral actions in Kashmir, representatives from a number of organisations have been named in media reports.

ABC13 News reported that many of the thousands gathered to protest on the south side of the NRG Stadium were chanting "Go back Modi!" and "Modi is a terrorist!".

Protestors told ABC13 that "children are being incarcerated, people are being tortured by the police and shot at by Indian troops and there is an internet and cell phone blackout in Kashmir."

Protestor Sunita Viswanath, co-founder of Hindus for Human Rights, said that atrocities against the minorities in India could not be tolerated in the name of the Hindu faith. "As Hindus, we feel like the atrocities happening in India… are all being done by a Hindu extremist government in the name of our beloved faith, Hinduism. It is our absolute religious, moral and human obligation to stand up and be counted on the side of history that said: 'No, not in our name,'" Viswanath told Al Jazeera.

ABC13's report says the protests were organised by the "interfaith human rights organisation" Sikhs for Justice and its allies, citing their concern that "ethnic violence and human rights abuses under Modi have put India on a genocide watch list", and that since 2014, "violence against social and religious minorities has become much worse."

The people of Kashmir "are denied their access to freedom. They cannot get out of their homes," protestor Syed Alie told the news network. Fellow protestor Gurpatwant Singh Pannun said "America is not the place for Modi. America stands for the right to life and liberty and property and that is exactly what Modi stands against."

In July the Indian government had banned Sikhs for Justice, which it describes as a "separatist" organisation. According to reports Pannun was declared a proclaimed offender by a court in Batala, and stands accused in more than one case of "sedition".

Dawn reported from Houston that "thousands of activists and citizens from all over Texas had gathered" in the city over the weekend for the demonstration. It said the Alliance for Justice and Accounta­bility, Azaad Austin, the Council for American Islamic Relations (CAIR) and Black Lives Matter jointly addressed the media on Saturday.

At that press conference, an unnamed member of CAIR said, "Our ancestors chose to remain in India at the time of partition, but what Modi is doing right now is taking India towards a scary fascist direction."

In New York City meanwhile, Sunday afternoon saw the participation of some 3,000 residents in the city's 35th Annual Muslim Day Parade, with "a strong focus on Kashmir and Muslim unity". Besides celebrating the achievements of Muslim Americans, Al Jazeera reported, many marchers called for "the human rights of Kashmiris to be restored" and spoke out against "Islamophobia as well as oppression of Muslim communities – from Indian-administered Kashmir to the United States".

It was on similar lines that US congressperson Ro Khanna, a Democrat from California, came out strongly against "Hindutva" in a public statement some weeks ago.

"It's the duty of every American politician of Hindu faith to stand for pluralism, reject Hindutva, and speak for equal rights for Hindus, Muslims, Sikhs, Buddhists & Christians," wrote Khanna. "That is the vision of India my grandfather Amarnath Vidyalankar [a freedom fighter and Congress MP] fought for," Khanna wrote on August 29.

Democratic presidential candidate Tulsi Gabbard, a military veteran and congressperson from Hawaii, reportedly refused an invitation to attend the rally. Fellow presidential candidate Bernie Sanders, Democratic senator from Vermont, published a strongly worded article in the Houston Chronicle against the Indian government's ongoing clampdown in Kashmir.

As election season gets underway in the US, amid a faltering economy and historic gains for the Democrats in the House of Representatives last year, the Texas press largely covered the 'Howdy, Modi!' rally in terms of diasporics, business deals and the president's reelection campaign.

The Fort Worth Star-Telegram wrote how Trump's "run-up to the U.N. General Assembly was a dash on Sunday through two key political states with two world leaders at events that felt like his raucous campaign rallies."

The other key state was Ohio, where Trump and Australian Prime Minister Scott Morrison visited a paper factory operated by Australian businessman Anthony Pratt, who is "investing billions of dollars in the United States… to create thousands of manufacturing jobs".

Likewise, with Modi it was not the NRG Stadium but an energy deal that was the highlight of the PM's visit to the oil belt. The San Antonio Express-News reported how, "Hours after landing in the Bayou City, the prime minister held a private roundtable on Saturday evening with CEOs from 16 energy companies at the Post Oak Hotel in Houston's posh Galleria district."

This closed door meeting, held the day before the rally, saw the Indian government sign one of the largest liquefied natural gas supply deals in US history, between Houston LNG company Tellurian and India-based Petronet LNG, which "will be investing $2.5 billion in exchange to receive 5 million metric tons of LNG per year from Tellurian".

Petronet LNG is publicly owned. Its stocks dipped 7% after the deal was announced. Tellurian was reportedly one of three corporate sponsors of the 'Howdy, Modi!' event.

"It's going to be amazing because Prime Minister Modi is an icon," Swapan Dhairyawan, president of the Indo-American Chamber of Commerce, told ABC13 News. "He's an icon. And we are so excited to welcome him to H-town and Houston being the hub of oil and gas."

In the run up to the event, the Houston Chronicle had quoted Jagdeep Singh, "a Houston Sikh promoting the 2020 Punjab referendum" as saying that "the large Indian communities in Houston—from Hindus to minority Sikhs—typically get along fairly well. But Modi comes here and brings his agenda, so the people are now split".

The same report describes how Ghazala Habib, chairperson of the organisation Friends of Kashmir International, had arrived in Houston from Dallas to help organise the protest. "[Modi] is trying to commit a complete genocide in Kashmir," said Habib. "He's saying in India only Hindu people can live."

On Sunday as the crowd of protestors swelled to thousands, Raja Muzafar of the Kashmir Global Council could be seen holding a poster that read 'Free Kashmir'.

Muzafar told Dawn correspondent Sarah Eleazar that the "voice of Kashmiris has been throttled because of the media ban. There's no access to life-saving medicine or even food… I'm attending to demand an independent Kashmir. The thousands of Kashmiri flags here in solidarity shows that the world is with Kashmiris."

Eleazar also spoke with Fareena, who said she was unaffiliated with any organisation and only wanted to raise awareness about "what's happening in Kashmir. We need to get rid of Trump and Modi."

Fareena described herself as "just a concerned desi" —using that umbrella term among the subcontinent's diaspora which so easily transcends divisions of religion and nationality, if not caste or class.

It is unclear how well the protestors — lined behind barricades — got along with those attending the 'Howdy, Modi!' rally. While the Houston Chronicle reported there was no friction, Al Jazeera correspondent Kimberly Halkett said the presence of protestors had "riled Modi supporters… our photographer got his media credentials yanked, his camera was pulled away. This [protest] is something the organisers of the event really don't want to have broadcast around the world."

The thousands-strong protests in Houston and New York were not the only response to the Indian government's actions in Kashmir. Besides numerous small rallies and marches by Kashmiris and others residing in Euro-US capitals, protests near the Indian High Commission in London around India's independence day gained a fever pitch as a few violent clashes were reported.

Notably, the protestors have been found echoing their host governments' public statements on Kashmir, or vice versa.

UK Foreign Secretary Dominic Raab reiterated in the House of Commons on September 4 that "the human rights situation in Kashmir" was "an international issue".

French President Emmanuel Macron said on August 22 that his government would "remain attentive to ensure the interests and rights of the civilian populations are properly taken into account in the territories on both sides of the ceasefire line", and that it was the responsibility of both India and Pakistan "to avoid any deterioration on the ground that could lead to an escalation."

A US State Department spokesperson said on August 29 that "We continue to be very concerned by reports of detentions and continued restrictions on residents. We urge respect for human rights, compliance with legal procedures, and inclusive dialogue with those affected."

And besides UN Secretary-General Antonio Guterres, the veto-bearing five permanent members of the Security Council have all issued statements reminding the Indian government that they consider Kashmir to be a bilateral dispute between India and Pakistan, governed by the relevant United Nations resolutions and international law.

Already the government's actions have led to the first Security Council discussion on Kashmir since Nehru's years.

But the government of India has seemingly as many carrots as sticks. Former diplomat M.K.Bhadrakumar recently wrote how it surprised the Russian government by making the initial payments for a $6 billion deal for an S-400 missile defence system.

And how, in a recent meeting in New Delhi with the French national security advisor, it discussed the lucrative next order for Rafale fighter aircraft, Scorpène submarines, Caracal helicopters, and some 100 heavy Panther helicopters for the Indian Navy.

In New York City, the UN General Assembly will conduct its first high-level general debate on September 24. The Kashmir dispute is expected to be discussed in the days to follow.

It has now been 50 days since a communications near-blackout, and regular cordon-and-search operations by the Indian Army, were imposed on the people of Kashmir.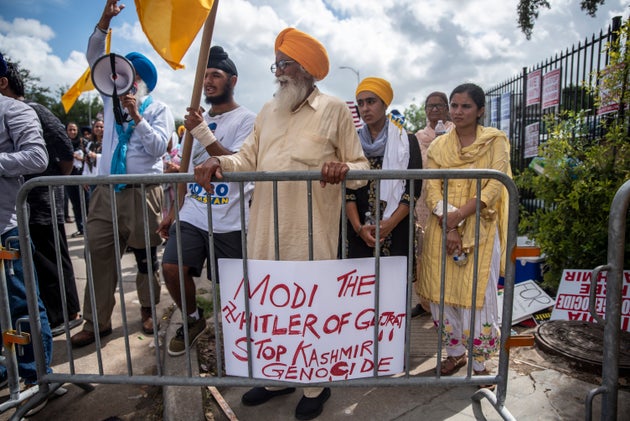 Next Story